This is a simple intelligence test for cats to find out just how smart and clever your furry feline really is. Spread the test sessions over a period of several days, allowing a rest day between the practices. Do them right before your cat's mealtime and try to keep them brief and fun.
To start the testing, you will need an 18 to 24 inch hoop (larger for BIG cats) and a container of your cat's favorite treats. The objective of the test is to see how quickly your cat can learn to jump through the hoop. Record the number of times you must repeat the training command before your cat masters the hoop jumping skill.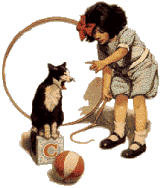 With your cat standing beside you, hold the hoop about a foot above the floor. Use your other hand to show your cat the kitty treat within the middle of the hoop. Use a command such as "Come on" or "Jump" to call your cat through the hoop. It might help if you wiggle the treat to entice the cat. If your cat raises up on hind feet and grabs the treat from your hand on the first try, don't worry. This is an acceptable response.
The next step is to pull the treat back through the hoop, speaking your command, as you encourage your cat to follow. Don't let your cat cheat by going around the hoop. He must jump through it before you give him the treat as a reward.
When your cat performs willingly, stop holding the treat in your hand but continue holding your hand as though there is still a treat in it. Keep the treats somewhere else (maybe a pocket) and reward your cat ONLY when he jumps through the hoop for you.
The test is finished when your cat jumps through the hoop on command at least two out of three times.